Download Me
Track the score of any number of players with this simple to use application. Great for card and board games such as Scrabble, Magic, Carcassonne, etc.
Features:
Unlimited players.
Easy to use.
Assign colours to players.
Randomise order or colours.
Keeps players and scores.
Free!
If you love or hate this app, or have any suggestions then feel free to contact me.
Screenshots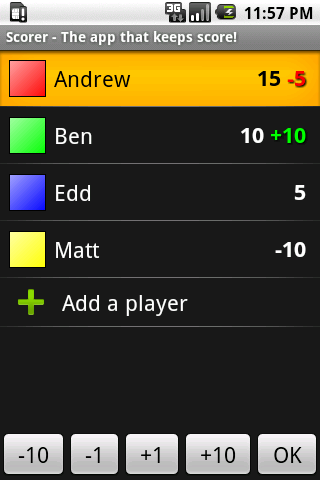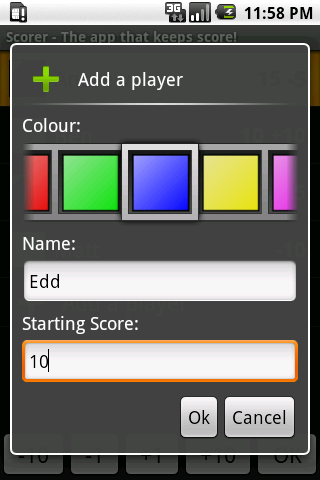 Versions
2010-04-07

Add options page

Move to next player after OK
Show/Hide totals row
Set values of each button

Display two more +/- buttons when in Landscape
Move players up and down
Sort by name, or score
Minor other changes

2010-03-09

French Translation
US Translation ;)
Added a totals row
Minor UI tweaks

2010-03-07

Fixed minor crash
Buttons disable when they can't be pressed

2010-03-06 – First Release
TODO
Chart the scores over time.
Credits
The software was written by Andrew Brampton. The scorer icon was taken from FatCow. The French translation was done by Vevert.